Description
Expand your capabilities with the power of FLIR THERMAL imaging and the DJI MAVIC 2 ENTERPRISE Thermal Drone.
The Mavic 2 Enterprise Dual Thermal Drone is the result a collaborative effort between DJI and FLIR to combine cutting edge drone and thermal imaging technology, into a rapid response platform.
"The Mavic 2 Enterprise Dual equipped with the FLIR Lepton, our smallest thermal microcamera, offers a significant opportunity to introduce thermal imaging capabilities to more drone owners," said Jim Cannon, President and CEO at FLIR. "This is our third product with DJI and its world-leading platforms, and this latest Thermal by FLIR collaboration is a significant step forward in making thermal an essential feature in the industry.'
The Mavic 2 Enterprise Dual is Built Strong and Smart for first Responders
Law Enforcement (LEO)
Fire Fighters
Search and Rescue Teams
Lifeguards
Coast Guard
Thermal Inspectors
A three-axis gimbal provides smooth and stable video for the onboard camera sensors and thermal optics. The includes a 4K video camera sensor for photo and videos side by side with a FLIR LEPTON thermal micro-camera for capturing thermal data. Together these two camera sensors allow the drone pilot to perform flights and carry out search and rescue missions in complex conditions during the day or night, even flying during thick fog and smoke.
Users can select from multiple intelligent display modes in the DJI Pilot flight control app to visualize data from the dual-sensor camera:

FLIR MSX– FLIR's patented MSX, or multispectral dynamic imaging, embosses high-fidelity, visible light details onto the thermal imagery in real time to enhance visual details, helping pilots quickly identify and interpret critical data that may not be immediately visible to the naked eye.
Spot Meter – Displays the average temperature of an object, helping pilots monitor and measure critical or hazardous objects while maintaining a safe distance.
Area Measurement – Displays the average, lowest, and highest temperature, as well as the corresponding locations of each area, allowing inspectors to quickly assess objects and determine if an asset may be overheating.
Isotherm – Allows pilots to designate specific temperature ranges to be displayed using a custom color palette so objects within the range relay higher contrast and better visibility. This feature includes custom profiles to aid search and rescue pilots in identifying people and to help firefighters identify hot spots in fires, as well as a custom profile setting for added flexibility.
Compatibility with DJI's enterprise accessories
The Mavic 2 Enterprise Dual is compatible and comes with the full line of Mavic 2 Enterprise accessories. They are securely mounted to the drone's accessory port and operated through the DJI Pilot flight control app. These accessories are designed to increase effectiveness, enhance success and improve response times.
Spotlight – A dual spotlight with a brightness of 2,400 lumens aids operators in carrying out missions in dark or low-light areas. The spotlight is ideal for search and rescue as well as inspection applications.
Speaker – A loudspeaker with a maximum projection of 100 decibels (1-meter distance) lets pilots play up to 10 custom voice recordings on demand, providing a communications channel to nearby individuals that can be critical during lifesaving emergency operations.
Beacon – Designed with U.S. Federal Aviation Administration (FAA) Night Waiver standards in mind, the M2E Beacon features a bright flashing strobe visible three miles away. This helps pilots carry out missions in low-light conditions or at night much more safely, and provides additional airspace awareness for operators of nearby drones and traditional aircraft.
The new Mavic 2 Enterprise Dual also comes with the same cybersecurity features of the baseline Mavic Enterprise. All are designed to protect the integrity of photos, videos, flight logs and other data generated during sensitive flights.
This drone is also equipped with DJI AirSense, which improves pilots' situational awareness and enhances airspace safety by automatically alerting drone pilots of ADS-B signals from nearby aeroplanes and helicopters and by sending real-time positioning alerts through the DJI Pilot flight control app.
Mavic 2 Enterprise Dual uses DJI's FOC propulsion motors combined with efficient propellers for quieter and more efficient flight, delivering a maximum flight time of up to 31 minutes and a top speed of 72 kph (45 mph). In addition, a self-heating battery allows the drone to perform reliably in adverse weather conditions as low as -10 Celsius (14 Fahrenheit).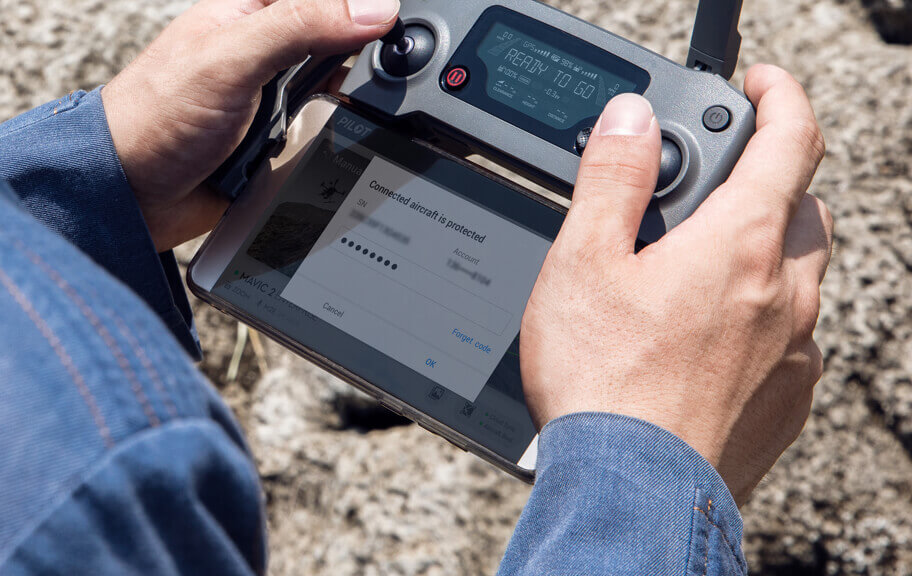 Your Aircraft and Data. Under Your Control.
Simply enter your password to get access to your device and all of its features and functions. This intuitive way of logging into your device ensures secure access to your drone and its onboard data storage, thus preventing leakage of sensitive information.
Always in the Know of Your Immediate Airspace.
Avoid hazards in the sky with DJI AirSense, which enhances your airspace safety by giving you instant real-time positioning alerts on nearby manned aircraft.
Fly Safer Than Ever.
Improved FlightAutonomy gives you omnidirectional obstacle sensing2, an advanced sensing system comprised of 8 high resolution vision and 2 infrared sensors placed on the sides of the aircraft. The result? A powerful set of sensors that determine the relative speed and distance between the aircraft and an object, so you can fly and hover with more stability than ever in a wide range of open and complex environments.
Sense and Avoid with Ease.
The Advanced Pilot Assistance System enables the drone to intuitively detect objects on its every move, letting you easily fly around or over obstacles, particularly in tight spaces.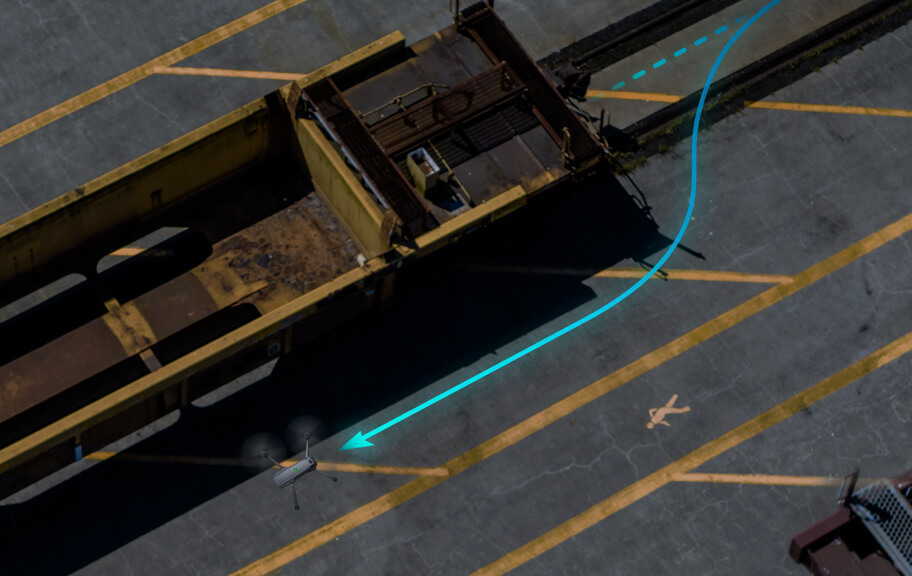 Stay close to the action – but away from the danger. The Mavic 2 Enterprise is equipped with a 2x optical, 3x digital zoom camera that lets you operate in close range missions without putting yourself in harm's way.
2x Optical Zoom

3x Digital Zoom

4K Video Recording at 30 fps

1/2.3" – 12 Megapixel CMOS Sensor
Data You Can Trust.
Like your iOS or Android device, GPS timestamping records the time and date that images are taken, so you can leverage data for industry level applications where accuracy is essential and timing is vital.
Foldable. Compact. Portable.
At 905 g the Mavic 2 Enterprise is rapidly foldable and swiftly slides in the side of your belt package, giving you instant power that's easily accessible and transportable – wherever you operate.
Self-Heating Batteries for Adverse Environments.
Stay powered on in demanding climates with a suite of smart self-heating batteries that are capable of working in sub-zero temperatures.
OcuSync 2.0

Less Interference. Enhanced Transmission.

Experience sheer flying performance with OcuSync 2.0, which supports automatic dual frequency band switching3. This ensures a more reliable and stable flight, and enhanced video transmission of up to 4 miles at 1080p resolution.

FOC ESCs & Propulsion

24 GB Onboard Data Storage

In-Built Controls at Your Command.

Fly with confidence using a range of advanced controls that are sophisticated in design and refined to give you the ultimate flying experience – every time you take off.

Discreet Mode
Do More Across a Range of Applications
Rescues in Swift Water and on Hiking Trails
Empowering rescue workers with tools to better save lives in the community.
When Duty Calls at the Edge of a Cliff
Conducting rescue operations in dangerous and hard-to-reach places. (play video)
Professional Flight Control & App Compatibility
DJI Pilot
DJI Pilot is a robust App developed specifically for enterprise users to unleash the power of their DJI drones. With development made specifically for the Mavic 2 Enterprise, DJI Pilot optimizes your flight capability for peak performance.
DJI FlightHub
DJI FlightHub is a one-stop solution for managing your drone operations, supporting large organizations to effectively scale their aerial operations. Compatible with the Mavic 2 Enterprise, you can integrate FlightHub directly into your existing fleet of DJI drones and leverage its aerial intel across your organization.